5 Common Cyber Threats That an IT Company Can Defend Your Business From
Advancements in technology have not just nurtured business growth, but also resulted in sophisticated hacking techniques and malware. This scenario has pushed organizations to develop IT strategies that strictly adhere to cyber compliance, curb data breaches, and improve data security.
Several government regulations, like the one based on the Sarbanes-Oxley Act (SOX) technology, have been recommended to safeguard critical services.
It has been estimated that the worldwide spending on cybersecurity will reach $133.7 billion by 2022.
The cybersecurity landscape is continuously evolving and so are newer vulnerabilities and threats. Businesses should be vigilant to identify these threats and eliminate them.
IT companies can support organizations as they are equipped with the technical know-how to consistently monitor networks and systems, identify security concerns, and incorporate timely countermeasures.
Though there are several cybersecurity threats to look out for, here are a few top challenges IT companies can help you stay protected from.
Weak Passwords
Weak passwords are a huge threat to businesses. Organizations are widely adopting cloud-based services that are dependent on different accounts. Passwords that can be easily guessed or identical passwords for multiple accounts put data at a huge risk.
81% of hacking-related breaches have been found to be a result of compromised, weak, and reused passwords. Stakeholders should ensure that employees handling accounts are appropriately trained to implement strong passwords.
Multi-factor Authentication technologies can help protect data from cyber-attacks. Your managed IT services provider may use this approach as it involves multiple verification steps (like a passcode being sent to the registered mobile number). Implementing this kind of a cybersecurity approach will prevent hackers from accessing important business accounts even if they crack the passwords.
Also, a competent IT company will help train employees to identify suspicious emails or illegitimate links. A peek into the dangers of accessing data from personal systems will further throw light on the threats public networks pose for the business. This way the entire workforce will begin to work as an extension of your security team.
Ransomware Attacks
This is the most common type of cyberattack that impacts businesses. It involves encryption of sensitive information so that it cannot be accessed. The attackers demand ransom to unlock critical information. Businesses are either forced to pay for the release of information or struggle due to the loss of data.
To handle these situations, businesses should have a cloud back-up solution. This way businesses may retrieve back-up data even in cases of data being lost due to a ransomware attack. As several back-up solutions are available in the market, organizations should conduct detailed research and find the best-suited solution for their technology landscape.
Furthermore, the most important aspect of adopting cloud-backup solutions is the ability to easily recover blocked data without having to pay a heavy ransom.
An IT company can effectively safeguard services by implementing a disaster recovery and backup plan. In the worst case scenario, if your data has been compromised, this plan, along with an incident response plan, will help in continuous productivity and improved cyber-resilience.
Denial of Services (DoS)
A DoS attack denies service in one of the following two ways:
This involves sharing specialized data with the system, causes an error in the system, and prevents the system from functioning normally.
This involves overloading the system with multiple requests, thereby slowing down the system and disabling it from functioning properly. These attacks hold a system hostage and demand a ransom from the user.
DoS attacks are different from DDoS attacks. While DoS uses a single system as the target, Distributed Denial of Services (DDoS) uses multiple or a distributed setup to implement the attack.
These attacks can be prevented with a strong access privilege management system. It is important to maintain a separate team that defines access privileges based on the role of the team members. Only administrators should be provided complete access to the network and systems.
Other members should be allowed to access only the data they need to accomplish their duties. This way, even if a hacker gains access to the system, the damage caused may be limited.
Advanced Persistent Threats 
An Advanced Persistent Threat (APT) is a passive cyber-attack. Here, the hacker gains access to a computer network for a prolonged time to collect information. The best way to tackle APTs is to continuously monitor networks and stay on top of bottlenecks. It is also important that organizations strictly adhere to compliance guidelines and regulations.
Having an incident monitoring system in place will help identify and pull out data anomalies. A cybersecurity team will stress on the need to adhere to compliance, guidelines, and regulations. Furthermore, qualified security analysts can predict any kind of upcoming threats and shut down an attack at the earliest.
Phishing attacks happen when hackers enter a network by appearing to be legitimate. They usually entice a user to click on a malicious link, download malware files or convince the user to provide sensitive data like account information or credentials.
With the number of phishing campaigns raising drastically, the need to adopt secure email gateways have become cardinal.
Continuous monitoring and having robust anti-virus firewall and anti-malware software are important. Specially designed anti-malware software that meets your business needs will help isolate malicious links and emails. It will also help prevent the entry of malware into your system.
A cybersecurity team will be able to regularly keep track of required updates and notifications. Updating your system from time-to-time is also important to fight cyber-attacks.
Wrap Up
It is pivotal to implement the best cybersecurity practices and stay away from online attacks. An IT services company will use the right blend of security measures and techniques to secure your business's technology landscape. Hopefully, the above-mentioned points will help you understand the different types of cyberattacks and the possible ways a managed IT services provider can help.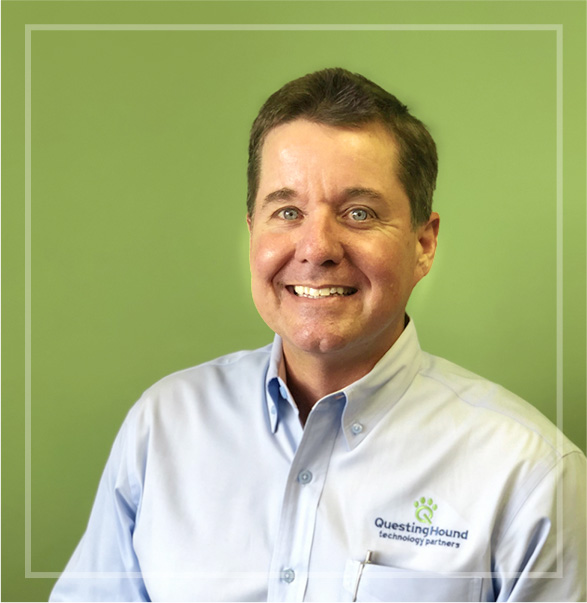 John Boden is a Managing Partner at QuestingHound, Inc., a Deerfield Beach IT support company that has been helping small businesses in South Florida stop focusing on IT and getting back to doing business the past 18 years. He promotes a culture that is dedicated to the highest standard of ethics, hard work, and outstanding customer service. Connect with John on LinkedIn.