5 Easy Tips to Help Remote Workers Improve Their Productivity
Of late, an increasing number of workplaces have been taking their operations remote. Here are some huge numbers to consider.
Since 2010, the amount of people who work remotely at least once per week has

grown by 400%

.

Telecommuting increased by 22% between 2017 and 2018.

In the U.S., 4.7 million employees (3.4% of the workforce) work from home at least half the week.
As you can see, remote work is on the rise. 
Having said that, one of the most important aspects associated with remote work is employee productivity. Every business that has remote workers is constantly trying to devise new ways to boost it. 
While working from home does provide employees with flexibility, it is not everyone's cup of tea. Distractions and the lack of spontaneous conversations with colleagues can sometimes result in lowered productivity and feelings of isolation.
Businesses, therefore, need to work out ways in which they can better collaborate, communicate, and connect with their remote workforce. 
One way to facilitate this is by working with experienced providers of managed IT services. A managed services provider will be adept at deploying the right technologies and IT tools that make remote collaboration and communication seamless and easily accessible. 
If you find that your remote employees are struggling with productivity issues, we have a few helpful tips. 
Set Specific Goals
This one is a fairly simple, but a crucial step to keep your remote teams productive. 
Give your workforce a direction and a cause to work towards is by setting clear and specific goals. This will also allow your team to gain perspective of the road ahead as well as set new milestones. 
Begin by assigning your remote teams specific goals to achieve within a precise deadline. Doing so will also motivate your teams to streamline their work process, which in turn, will improve their productivity. 
Nurture Relationships with Your Teams
It cannot be denied that the attitude of your remote employees towards their work will affect the workflow as well as their efficiency. So, if you want to maximize your remote team's productivity, you need to build good relationships with them. 
You can do this by facilitating non-work-related interactions among remote workers. Harness tools like Slack or Google Meet to give your employees a platform to keep communicating with each other, both formally and informally. Make time regularly to talk to your remote staff about news, hobbies, movies, and more, just the way you would have done in office. This will help them release work stress and feel better connected. 
You can also choose to spend a few minutes before and after video conferences with your team to catch up. Another option is to organize a weekly virtual coffee meet or team-building exercise to keep employees connected. 
Finally, make it a point to keep your remote teams updated with the goings-on in the business. Talk about new and upcoming projects to keep them interested. These steps can go a long way in establishing healthy working relationships between you and your remote team, thereby skyrocketing their productivity. 
Invest in the Right Equipment and Tools
Let your employees know that working remotely does not mean balancing their computer on the corner of their kitchen counter or coffee table. By simply having the right tools and equipment, your remote workers can boost their productivity. 
Remote workers spend most of their waking hours at their workstation. How this time is spent matters a great deal. As their employer, you need to guide them about doing this right.
Whether they are working from their kitchen or dining table, your remote workers are going to need an ergonomic chair that allows them to focus on work, instead of giving them lumbar trouble. Whether they use a sitting desk or a standing one, their screen should be at eye level, back supported, and feet planted flatly on the ground.  
You may also equip them with choosing the right IT tools for their computers/laptops. This is crucial because these will not only enable them to perform their day-to-day tasks, but will also become the primary means of communication. 
Thanks to modern technology, an array of cloud-based software are designed specifically to help remote teams with flawless communication, project management, information sharing, and more. If you're not sure which tools suit your specific business needs and goals, you should speak to a local managed IT services provider. To find one, you can simply type the words "IT company near me" in Google's search engine and you will get the results you need.
However, make sure to mention your location to get the most relevant results for you. If your business is based out of Boca Raton or South Florida, for example, you should type "IT services Boca Raton, FL" or "Managed IT Company in South Florida" to get the most pertinent search results. 
Prioritize Communication
Whether it is the traditional work environment or the virtual one, facilitating unhindered communication is non-negotiable. After all, it is the foundation of every collaboration.
The communication process needs to be as simple as possible. For this, you should be available on at least one communication platform. Also, provide your teams with various communication tools that can be utilized to connect with everyone in the organization. A skilled IT services provider can help you here. 
Having simple communication tools and processes in place will encourage your teams to connect, collaborate, and make things happen, thereby enabling faster and better output.  
Make Progress Visible
Taking a cue from the first point, once you have set specific goals for remote workers, you should also create a means for them to effortlessly see how they are performing. This will serve a motivating factor and drive them to gain an in-depth look into the overall health of the business. It will also give them the opportunity to identify areas for improvement and opportunities for innovation or specialization.
To ensure that your remote teams progress towards their goals, they need to know how to prioritize their time, monitor task completion, and adhere to set deadlines. Every member of the remote teams should know about not only their responsibilities, but also of their colleagues'. Hence, you should strive to be as transparent as possible. Working in an environment that encourages transparency across all levels and rewards good work is sure to boost productivity among remote teams. 
Conclusion
There is no denying the fact that remote work is on the rise. However, without the proper steps, remote employees can feel distracted, isolated, and unmotivated. In other words, remote work is not as easy as people think it is. Apart from clarifying goals and building healthy work relationships, having the right IT tools and technologies that support remote work operations is key to keeping productivity issues at bay. It makes sense to work with an IT company that understands your unique business concerns and adequately addresses them. QuestingHound is an IT services company that you can always count on in this regard. Connect with us today to know more about our solutions and services, and how we can help you.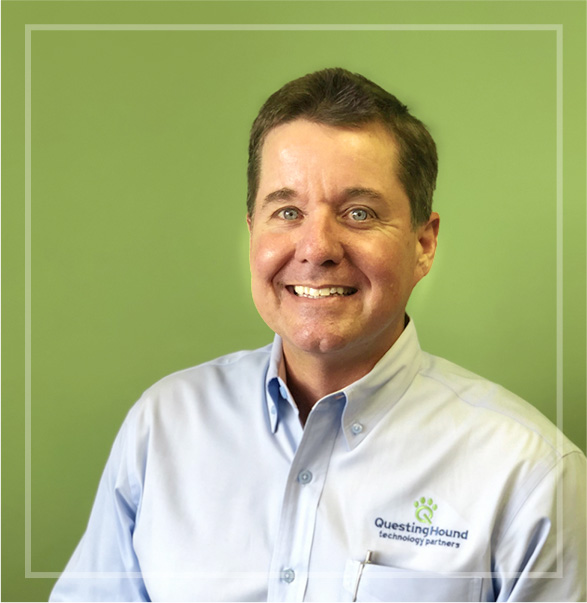 John Boden is a Managing Partner at QuestingHound, Inc., a Deerfield Beach IT support company that has been helping small businesses in South Florida stop focusing on IT and getting back to doing business the past 18 years. He promotes a culture that is dedicated to the highest standard of ethics, hard work, and outstanding customer service. Connect with John on LinkedIn.