8 Benefits of Having a Comprehensive Cyber Security Plan
As technology evolves, the US, along with the rest of the world, continues to face the fastest-growing type of criminality, i.e. cybercrime. Not only is the threat of becoming prey to cyber-attacks increasing by the day, these attacks are also growing in size and complexity.
According to findings, companies in the United States are currently experiencing an annual loss of more than 525 million US dollars due to cybercrime. The majority of these losses originate from malicious code and DoS (Denial of Service) attacks.
Organizations of all sizes are targets and need to be prepared to mitigate this mounting threat.  Having a comprehensive cyber security plan in place has become imperative for every business.
While no solution can eliminate threats entirely, a cyber security plan can help reduce risks to a great extent. Here's how your organization stands to benefit from it.
1. Gain Better Understanding of Risks
The increasing use of cloud computing technology, mobile devices, IoT, wearables, and so on by businesses has led to greater exposure to cyber threats and attacks. Organizations, therefore, need to be more tactical in protecting themselves than ever before.
However, before you can mitigate threats, you should have a clear understanding of the threat landscape as well as your vulnerabilities and shortfalls. This is also conducive to early threat detection.
A cyber security plan will help you gain a thorough understanding of your current IT environment, allowing you to make the necessary adaptations to secure it.
2. Enable Proactive Protection
One of the main reasons organizations become victims of cybercrime is their reactive approach. It is important to ward off the false sense of security and take proactive measures towards strengthening your cybersecurity.
The perpetual and ongoing monitoring and maintenance by IT support specialists should be preferred over waiting for an attack to take place and then reacting to it.
Organizations should always be prepared for worst case scenarios. Proactive measures can be put in place through penetration testing, security vulnerability scans, business continuity planning, and managed security to name a few.
3. Respond Promptly
As mentioned, no organization is completely secure even with the strongest security solutions in place. Some attacks can breach the strongest defenses. If companies like Target, Facebook, and Uber can fall prey to them, any business can. This is why having a cyber security plan can be helpful.
Developing this plan means knowing exactly what steps to take in the event of a successful cyber-attack, and containing the damage to the greatest extent possible. Every member in the organization will know their individual role in how they should respond to the crisis, preventing stress, chaos, and miscommunication.
4. Meet Necessary Compliance
Modern businesses are required to meet relevant compliance standards and regulations such as the GDPR (General Data Protection Regulation), PCI DSS (Payment Card Industry Data Security Standards), CIS Controls (Center for Internet Security Controls), and so on. Failure to do so can lead to heavy penalties, lowered profits, and loss of customer trust.
Being compliant, on the other hand, can help businesses adhere to cyber security standards, mitigate risks, stay competitive, and solidify their reputation. A cyber security plan ensures compliance, and enables your businesses to follow all the best practices, while unfailingly meeting industry standards and regulations.
In order to ensure complete and accurate compliance, it is best to work with a local managed services provider as they will be aware of the factors applicable to you. You can easily find one through online search. Depending on your specific location (South Florida, for example), simply search for "Safeguard Services in South Florida" or "cyber security services in Boca Raton, FL" or even "IT company near me." You will get the most relevant results.
5. Gain Competitive Advantage
A cyber security plan can equip businesses to develop effective internal capabilities to fight off cyber-attacks. Once this is done, they can harness advanced technologies to fulfil their other strategic goals such as gaining market leadership, strengthening their brand, and differentiating their offerings.
This is important as more and more businesses are leveraging artificial intelligence, machine learning, and IoT to improve processes and performance. When used securely, these technologies can help your business gain a competitive advantage and increase revenue.
6. Enhance Revenue
Cyber-attacks and data breaches can cost companies big. Apart from lost profits, businesses also lose customers, are required to pay hefty fines, and get entangled in numerous lawsuits. Threats such as DDoS attacks can shut down your business website and stop traffic from accessing your website and making purchases.
With a cybersecurity plan in place, you will spend company resources, but rather than expenditures, they will be investments towards a better future of your business. Through improved security measures, you can minimize the scope of incurring unforeseen losses.
7. Get Better IT Team Support
By creating a comprehensive cyber security plan and implementing robust solutions, you are essentially arming your IT team with a well-established protocol to follow in the event of a crisis.
This, in turn, allows your IT services team to work better and allocate the necessary amount of resources to all IT projects.
Hence, you create a well-supported team that is prepared to handle emergencies and douse potential fires, while also keeping projects moving forward securely.
8. Prevent Insider Threats
A 2020 study by The Ponemon Institute reveals that insider threats are increasing. It also states that the number of insider-caused cyber security incidents have increased by 47% since 2018. Further, the average annual cost of insider threats has hit the roof in only two years, rising 31% to 11.45 million dollars.
A cyber security plan can go a long way in helping organizations thwart insider threats by allowing them to take a more organized approach to security. In a way, it makes cyber security a part of your organizational culture. When employees understand that cyber security is top priority and you have the necessary safeguards in place, they will think twice before engaging in malicious behavior. In short, a cyber security plan works as a natural deterrent against insider threats.
Conclusion
Advanced technologies have made doing businesses more convenient as organizations are able to offer more services while being available online 24/7 and harnessing cloud-based storage. This, however, also makes organizations more susceptible to cyberattacks. Your organization needs to be prepared to identify and counter them in a timely and strategic manner. Having a comprehensive cybersecurity plan in place is key to this. It enables businesses to organize and systematize their efforts rather than making frenzied attempts to prevent an attack. You can fortify your existing security infrastructure to handle any type of threat that comes your way.
To know more about what a robust cyber security plan includes, contact the IT support specialists at QuestingHound. We will gauge your business's unique security needs and equip you with the most powerful defenses and IT solutions.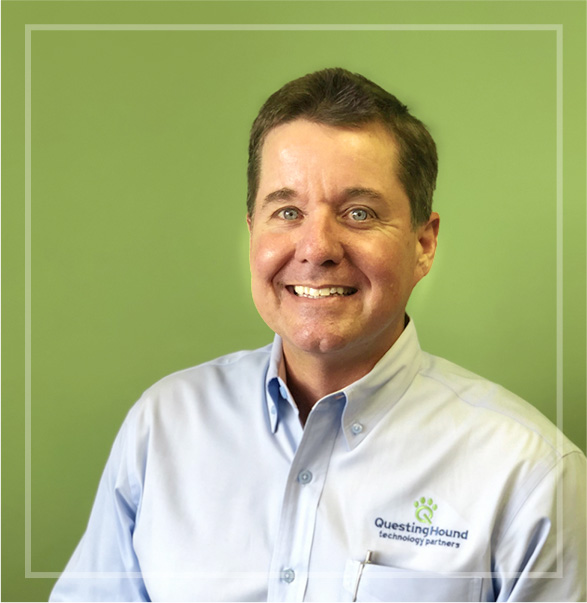 John Boden is a Managing Partner at QuestingHound, Inc., a Deerfield Beach IT support company that has been helping small businesses in South Florida stop focusing on IT and getting back to doing business the past 18 years. He promotes a culture that is dedicated to the highest standard of ethics, hard work, and outstanding customer service. Connect with John on LinkedIn.