Boca Raton IT Consulting: How to Choose an IT Consultant
Technology has always played an integral role in shaping Boca Raton's economy. With an ever-evolving software and communications industry, the city boasts a thriving startup community. In 2019, Boca Raton secured 20th place in the list of the top 20 boomtowns in America.
The competitive startup ambiance of Boca Raton is compelling businesses to step up their game. This includes your small business, too.
The simple truth is, you need to continuously innovate to differentiate yourself from other businesses. Harnessing technology is a great way to ensure this. An IT consulting company propels innovation by integrating advanced technology platforms into the existing business environment.
Further, the demand for IT support services is constantly growing due to their ability to help businesses embrace digital transformation.
Truth be told, building a solid IT foundation is imperative for all businesses for a number of reasons, including:
Facilitates better collaboration within and between organizations
Enables greater personalization of customer engagement initiatives
Engenders higher productivity
Helps extract deeper insights from data.
Owing to this, the IT consulting market revenue is expected to reach USD 73,084.4 million by 2025 from USD 57,467.3 million in 2021, registering an annual growth rate (CAGR) of 6.19%.
Clearly, partnering with IT professionals is essential in today's business world. Let's discuss how to do it smartly.
What Does an IT Consulting Company Bring to the Table?
IT consulting firms consist of trained professionals who analyze and organize a company's IT infrastructure. Based on the clients' business needs, they design technology strategies and solutions, helping them gain an edge over competitors.
IT consultants typically work with a business's internal IT team and provide support services in the development of software/applications, project management, business intelligence, and analytics.
They also help improve the efficiency of in-house IT teams by streamlining processes. In other words, an IT consultant's experience and expertise help the in-house team perform their tasks more effectively.
Further, IT consulting professionals help businesses overcome key technological challenges that may be difficult for their internal team to resolve. Subsequently, in-house teams get an opportunity to evolve by working alongside industry experts.
Considering Boca Raton's growing startup community, your business needs to keep pace with evolving technologies to stay relevant. IT consulting pros can help you procure the most suitable solutions and simplify your processes.
All in all, IT consultants provide a comprehensive roadmap for implementing new technology in the existing business strategy. In essence, they help you make smart business decisions as you utilize technology to grow your organization.
Why Does Your Business Need the Help of an IT Consulting Company?
Your internal IT team may not have the technical know-how and experience required to overcome complex hurdles. The challenges posed by a poorly maintained IT environment can cripple your business.
Here are some reasons to work with Boca Raton IT consulting services.
1. Focus More on Core Competencies
As a small business owner in a competitive startup environment, you need to constantly contribute to the value proposition in the market to stay ahead of competitors.
An IT consulting firm can help you with infrastructure management services, server and data migration, operational backing, and more.
From enabling daily IT functions to unhindered customer support, IT consultants can help you successfully address all technological challenges, so you can better focus on your core business operations.
2. Improve Cybersecurity
Cyberattacks invariably lead to substantial financial losses. According to CNBC, cyber-attacks may cost companies $200,000 on average, putting many out of business. Another study from Accenture highlights that cyberattacks can potentially siphon off $5.2 trillion worldwide by 2024.
As the threat landscape evolves, you need to protect your business from attempts of hacking, identity theft, data loss, and other critical risks. An IT consulting professional will provide you with the right guidance in this direction, and recommend time-tested measures to mitigate threats.
Their team will assess your existing IT infrastructure for loopholes. They may then suggest a combination of proactive and reactive security measures to prevent breaches. The team might also make recommendations for hardware and software upgrades to keep threats at bay.
Further, IT consulting professionals perform penetration testing and malware analysis to thoroughly evaluate the technology environment. They also educate internal business teams about the need for minimizing shadow IT.
When it comes to using preventive technology for cybersecurity, they will suggest and implement the most high-tech firewalls, antivirus software, password management applications, encryption software, as well as backup and recovery systems.
3. Reduce Downtime
Downtime takes a massive toll on the overall bottom line of small and medium-sized businesses. According to Businesswire, the average cost of downtime due to a ransomware attack is a whopping USD $141,000.
Frequent downtime may impact your business's availability to customers. If you're constantly unreachable, your customers will surely knock on your competitors' doors. To prevent this from happening, the IT consulting company will develop and recommend methods to implement proactive IT infrastructure monitoring 24/7/365.
Through this step, IT consulting professionals will help anticipate and identify the threats/risks that could result in downtime and devise a comprehensive strategy to deter it.
4. Save IT Budget and Time
Oftentimes, small business owners tend to address IT challenges by themselves to avoid surpassing the IT budget. This, however, involves a lot of trial and error, leading to unnecessary expenses later on.
Moreover, you may have to spend a lot of time steering your team in the right direction, leaving you with just a few hours every day to focus on your core responsibilities.
An IT consulting team can help you save both time and resources. You need to pay a flat monthly fee for all the services availed, saving a huge chunk of your overall IT budget and work hours.
5. Gain an Edge over Competitors
echnology is always evolving. An IT consulting company ensures that your business is operating on updated technology platforms and at peak efficiency.
Their team actively engages in periodic auditing of the existing IT infrastructure and accordingly provides recommendations on upgrading systems. They also equip your business with the latest software solutions and technical know-how so you enjoy an edge over your rivals.
What to Look for When Choosing an IT Consultant?
There is no one-size-fits-all guide to follow when it comes to choosing a Boca Raton IT consulting company. But generally, you need to ensure that they offer the following.
1. Relevant Experience
Experience goes a long way when it comes to addressing complex IT challenges. Without the hands-on expertise of catering to industry-specific needs, it can be challenging to determine how technology can be implemented to enhance overall efficiency.
In other words, your prospective IT consulting company must be able to develop a solution appropriate to your business's ecosystem, considering its capability of adopting the proposed solution.
As a rule of thumb, speak to the IT consultants you're considering and ask about their industry-relevant experience before signing the contract.
2. Effective Communication
Communication is the pillar of every successful business partnership. It is, therefore, crucial to confirm that your prospective IT consulting company will communicate with you regularly and keep you on top of the latest developments.
The consultant should also demonstrate their ability to offer a factual and timely analysis of your business's IT capabilities and how they will enhance them.
3. Transparency in Service Level Agreement
Your IT consulting partner must maintain complete transparency when setting the terms and conditions in the service level agreement (SLA).
Project timelines should be clearly mentioned along with a clear differentiation between long and short-term projects. The cost of each service availed also needs to be elaborately stated.
Moreover, you want to work with a company that resolves your issue without deliberately extending the contract. The SLA should, therefore, have a proposed end date mentioned for resolving each problem. This date must, under no circumstances, extend indefinitely or be extended without your prior permission.
4. Training and Support Programs
Without a robust learning and development plan, your employees will fail to keep up with upcoming IT trends, threats, and cybersecurity best practices. You should, therefore, ensure that your IT consulting partner can equip your employees with the skills to overcome day-to-day IT challenges.
In fact, support programs designed by IT consultants often hold the key to success in a complex business scenario. It makes employees more efficient in project management tasks and in using complex tools/applications for better service/product delivery. This, in turn, helps ensure higher customer satisfaction.
It is a good idea to ask them about the training and support programs they have in place.
5. History of Success
You should always ask prospective IT consultants for references of their existing and past clients to gauge the results that they have successfully delivered. You may want to speak with one of their clients to verify if the IT consultant's claims are valid.
Read customer reviews on Google and other third-party websites to better understand the IT consultant's abilities. Further, go through client testimonials on their social media accounts, review platforms, and IT community forums to develop a deeper understanding of their work history.
Conclusion
As Boca Raton's startup scenario continues to gain momentum, businesses are facing stiff challenges to stay competitive. An IT consulting company brings in technological innovation and improves service/product delivery, helping businesses stay ahead in the race.
As a business owner in Boca Raton, you'll have a myriad of choices when it comes to IT consulting firms. The above considerations will surely help you choose the most suitable Boca Raton IT consulting services, as per the specific needs of your business.
If you want to learn more about IT consulting services and why they are important to your business's growth, feel free to book a consultation with us.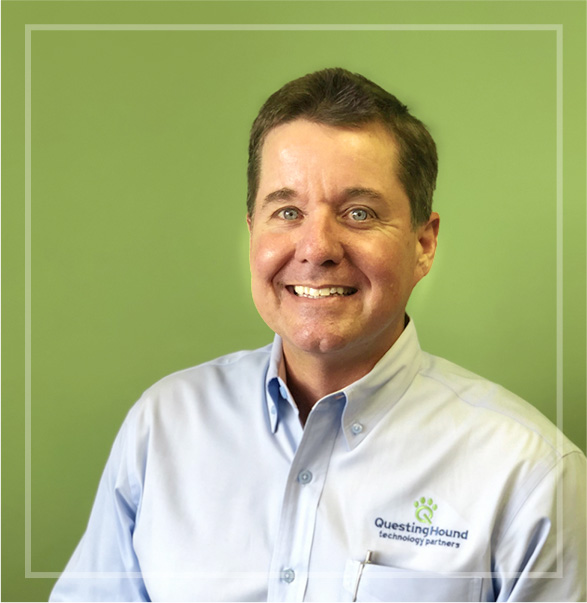 John Boden is a Managing Partner at QuestingHound, Inc., a Deerfield Beach IT support company that has been helping small businesses in South Florida stop focusing on IT and getting back to doing business the past 18 years. He promotes a culture that is dedicated to the highest standard of ethics, hard work, and outstanding customer service. Connect with John on LinkedIn.