How Do You Know Your Business Needs IT Support from an MSP
In this increasingly tech-driven world, running a business, whether small or big, without the right IT support is next to impossible. From your communications to marketing, almost every single aspect of your business is tied to technology. In other words, if you have the right technology, your business will flourish. If not, it will probably shut down in a few months. 
Unlike large enterprises, small businesses often face unique IT challenges. For starters, they don't have deep pockets to maintain a full-fledged and experienced tech team. They also lack the knowledge and skills required to get the latest and the right tech. Lastly, they often have to rely on technology to cut down costs, increase employee productivity, and streamline their business processes. 
So, it is crystal clear that as a small business owner, outsourced IT support is your best option. The question most businesses face is, when is it the right time to acquire this support? 
Here's when:   
1. Your Current Tech Is Insufficient     
Is your current tech infrastructure holding your company back instead of helping it grow? If your answer to this question is YES, your business definitely needs outsourced IT support as quickly as possible. 
The world of IT is evolving at an unprecedented speed. New tech is entering the market every week. If you want your business to stand out, you need to invest in the latest and the most suitable tech. However, small businesses often lack the knowledge to choose the right technology from a virtually unlimited number of options. 
That's where a Managed Service Provider or MSP can help you. MSPs are well aware of the latest tech entering your business niche, its features, and also costs. They can help you choose the tech that perfectly suits the growing needs of your business. They can also help you procure software and hardware at the lowest possible price, thanks to their robust vendor network.
2. Your In-House IT Team Is Understaffed and Overworked
Even large enterprises find their IT teams working overtime. So as a small business, you are most likely to face this situation. Most small companies have no more than two or three people in their in-house IT team. As a result, they are not able to tackle all of their IT challenges or issues, certainly not within the stipulated time. 
With managed IT support, however, you can offer a breather to your in-house IT team as you can tap into additional manpower when required. You also get a diverse range of skills, not just additional manpower by hiring an MSP. 
With an MSP, you can handle everything, from day-to-day tasks to high-level IT issues, like cybersecurity and data management, with confidence. It can help release the pressure off of your in-house team, allowing them to focus on their core responsibilities.  
More importantly, you can bring in the additional resources and skills only when you need them. It's a lot cheaper than maintaining a full-fledged IT team on your payroll. Also, most MSPs offer competitive rates, helping you build and maintain your tech infrastructure without breaking the bank. 
3. Data Security Is Your Major Concern   
Cybersecurity is a concern for all businesses. However, if your business handles sensitive personal and financial information, you have to take additional cybersecurity measures to protect your clients' data. You may also be required to comply with stringent data protection and IT regulations. 
For example, in the US, the Health Insurance Portability and Accountability Act of 1996 (HIPAA) requires businesses and healthcare providers to protect sensitive patient health information and prevents them from sharing it without the patient's consent. If your business, dental practice, for example, handles such information, you will need to put additional cybersecurity measures in place to ensure the safety of your patient/client data. 
Hackers target both small and large enterprises using progressively sophisticated tactics. They are using ransomware, a fast-growing and increasingly popular form of cyberattack, to target small businesses. A recent survey found that 46% of all small businesses have been the targets of a ransomware attack, with almost three-quarters (73%) paying a ransom. 
A devastating cyberattack like ransomware can bankrupt a small business. However, outsourced IT support can help you secure your business network with the latest firewall, antivirus, and antimalware solutions, among other measures. They can also help you monitor your entire network to identify and prevent any potential cyber attack or even a system glitch before it turns into a potential disaster.
4. Your IT Infrastructure Lacks Planning 
If you want to unleash the fullest potential of your IT network, you need to ensure proactive planning and scalability from the beginning. You need to update your old hardware and software acquisition and invest in new ones as and when required to meet the changing tech demands of your growing business. 
In most cases, however, this is well beyond the reach of your in-house IT team, usually comprising no more than two-three people. Planning your long-term tech requirements calls for experienced and skilled professionals, which is exactly what a managed IT services provider can offer you. 
Your MSP can save you from investing in the technology that isn't the right fit for you. They can also create a centralized hub and maintain an inventory of all your hardware and software, allowing you to procure the replacements or new devices when you need them. They can ensure regular data backups and a disaster recovery plan to ensure your business continuity in the event of a data breach or natural disaster.
Conclusion 
As you may already know, managed IT services are the need of the hour for every small business. However, most businesses are unsure if they are ready for outsourced IT support, and whether or not it will be a good investment. Hopefully, these four compelling reasons will help you make up your mind. If you still have doubts, feel free to talk to us. 
One of the most professional and competent managed IT services providers, QuestingHound can help you build and maintain a highly flexible, scalable, proactive, and safe IT environment that helps your business thrive. You can reach us on 954-727-2200 to schedule an introductory phone call or get in touch with us online.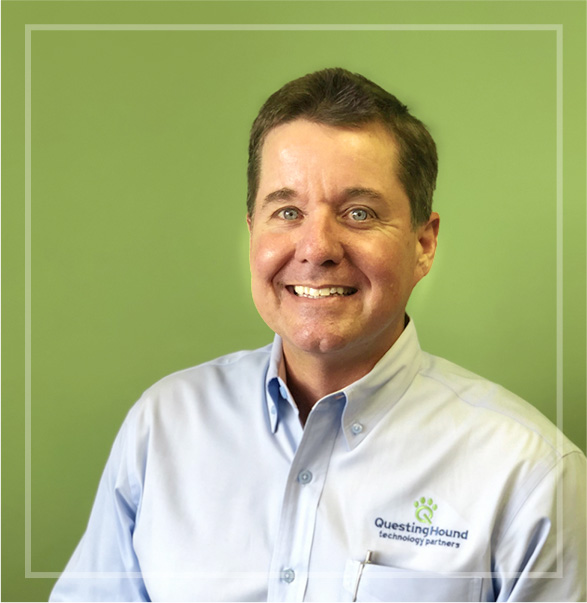 John Boden is a Managing Partner at QuestingHound, Inc., a Deerfield Beach IT support company that has been helping small businesses in South Florida stop focusing on IT and getting back to doing business the past 18 years. He promotes a culture that is dedicated to the highest standard of ethics, hard work, and outstanding customer service. Connect with John on LinkedIn.