How to Choose the Right Data Backup and Recovery Services Provider
Data is at the heart of every business in today's world. It helps you increase efficiency, project your business growth, solicit new leads, recognize upcoming market trends, and facilitate quick and hassle-free transactions. However, you need to keep your business data safe from unauthorized people and hackers to ensure business continuity and uphold your brand trust.
While you can invest in the best cybersecurity measures, they aren't always enough to protect your data. That's why data backup and recovery need to be a part of the managed IT services your business already has or wants to secure.
It is one of the fastest-growing trends in the world. According to a recent survey, around 91% of respondents stated that they used backups to protect their business' databases, followed by email (68%), and proprietary application data (62%) in 2019.
The bottom line is, if you haven't already found a data backup and recovery service provider, you need to find one immediately. Here are a few tips that will help.
1. Start with Security Features
While you can take proactive steps to protect the data stored on your own system, keeping your backups secure is often your service provider's responsibility. Your backed-up data can be compromised due to a natural disaster, human error, physical theft, system or hardware failure, and data breach.
Your service provider needs to be prepared to keep your data safe from all potential threats, especially cyberthreats and unauthorized access. To prevent unauthorized access, most cloud backup providers offer two-factor authentication for logins and data access. In this method, authorized users receive a one-time password on their registered number or email, offering an additional layer of protection.
Your service provider should also use robust antivirus, antimalware, and firewall protection to keep your data safe from any cyberattacks. A powerful firewall helps protect your data from malware and other types of cyberattacks by monitoring the activity on your cloud server.
If the system detects any out-of-the-ordinary activity, such as a failed login or access from an unknown device, it immediately alerts the system admin. Make sure your cloud backup service provider uses the best available solutions and practices that can help keep your data safe.
2. Excellent Customer Support Is a Must
What is the point of hiring a data backup and recovery provider if they aren't easily reachable or can't start working on your problem immediately? Excellent customer support is one of the most important characteristics of a successful cloud service vendor. Your MSP should be available 24/7, by phone or email.
Data backup-related emergencies can occur anytime. While most issues can be addressed over a phone call via remote computer management applications, sometimes on-site visits are also required. Especially hardware-related problems will need a direct inspection to identify the issue and take the necessary steps. So, your service provider should be able to reach your office or business location when needed and as quickly as possible.
On the other hand, when it comes to remote data-handling and troubleshooting, you should know exactly who you are talking to on the phone. The support desk executive needs to be an expert in cloud computing and data management, not a sales rep. They should be able to tell you exactly what you need to do to resolve the issue.
Further, your cloud service company should provide you with weekly or bi-weekly reports. The reports should tell you about the overall health of your data backup, threats detected and successfully averted, and anything else that needs your attention. If there is a better solution or major update coming up, you should be informed well ahead of time so that you can plan your work accordingly.
3. Get a Detailed Service Level Agreement (SLA)
In the IT services industry, the SLA or Service Level Agreement is a document that outlines the overall scope of work and the level of service you expect from your vendor, who is your data backup and recovery provider in this case. Creating the SLA involves the client (you) and the vendor.
When creating the SLA, make sure to analyze your technical and business goals and the relevant constraints to set achievable terms for both parties. For example, most cloud service providers offer anywhere between 99.99% to 99.999% uptime guarantee in their SLA. However, you need to ask your vendor how achievable this goal is. You should adjust it according to the capabilities of your vendor and your business needs.  
Your SLA should also include the responsibilities of both parties, penalties when the terms of SLA are breached, and also the metrics used to measure the level of performance offered by your vendor. Take a careful look at the SLAs offered by the shortlisted vendors to see which best suits your needs and budget. Any vendor not willing to put their service promises in the SLA should be crossed off your list.
4.
Consider the Costs
The cost of not having a data backup provider far outweighs the cost of losing your productivity and data due to unplanned downtime. According to a 2019 study, the average length and cost of planned downtime for a quarter before the survey was 224minutes and $1.5 million. Clearly, spending a few thousand dollars on your data backup and recovery makes sense.
However, that doesn't mean you should be spending money on services or technologies you don't need. You should try to save as much money as you can without compromising the quality and efficiency of your data backup and recovery process.
Most vendors in the managed IT services industry offer Pay-As-You-Go(PAYG) pricing model, where you get charged based on your usage. As you will be charged only for the cloud storage you are using, you can prevent your IT budget from going to waste. This model also allows you to scale and customize your data backup and storage as per your business needs.
Talk to your data backup vendor to discuss the different pricing models they are offering. Make sure to compare the costs and the add-ons (if any) before finalizing your vendor. Depending on the size and frequency of your data backup and the privacy and security requirements, the vendor may be willing to offer you additional discounts or a better service plan.
Conclusion
 Backing up your data is a must to ensure business continuity and keep your confidential information safe. To get the best data backup and recovery solutions, however, you need to work with the best vendor you can find. Hopefully, these four tips will help you do the same with ease. If you haven't already started backing up your data, start looking for a suitable cloud computing service provider now.
 QuestingHound, one of the most knowledgeable and skilled managed IT services providers, can equip you with a suitable data backup and recovery solution. In fact, we can also help your business with all things IT. Get in touch with us to know more about our services or call us on 954-727-2200 to schedule an introductory phone call.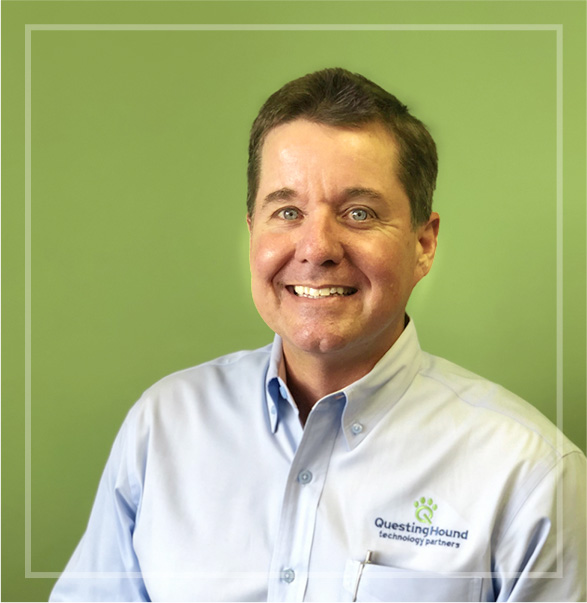 John Boden is a Managing Partner at QuestingHound, Inc., a Deerfield Beach IT support company that has been helping small businesses in South Florida stop focusing on IT and getting back to doing business the past 18 years. He promotes a culture that is dedicated to the highest standard of ethics, hard work, and outstanding customer service. Connect with John on LinkedIn.