Managed IT Services: The Complete Guide for Boca Raton Small Businesses
Technology is vital to the operations of almost all modern businesses. Although technology has made many things easier like internal communication, marketing, project management, and more, it has also created challenges. Because of this, business owners must be ready to face the issues that stem from digital environments.
For instance, many businesses were forced to operate remotely and adopt digital tools in the year 2020. According to a report from McKinsey & Company, there was a 22% jump in the digitization of customer interactions with businesses from 2019 to 2020. This has created a talent gap for many businesses that cannot integrate or manage the latest technology.
Small businesses in Boca Raton, Florida must navigate this jump in digitization and technology to stay ahead of the competition. However, it can be overwhelming for small businesses to provide proper technical support and IT security on their own.
This is where managed services providers, or MSPs, can help your business.
1. Why are Managed IT Services so Important in a Business?
Managed IT services are third-party companies that give businesses access to skilled IT technicians. These IT experts provide your business with services such as data management, cloud-based backups, security protection, and more.
In addition, MSPs solve one of the greatest tech challenges for businesses: setting up infrastructure for internal databases that are secure and functional. Oftentimes, managed IT services give businesses cost-effective hardware and software that fits their specific needs and sets them apart from the competition.
How can Managed IT Services Help Small Businesses Grow?
According to a poll by CompTIA, the number one factor that will drive business growth in the year 2021 is maintaining business with existing clients and consumers. The two following factors were reaching new customers and improving internal operations. An MSP will help businesses meet their needs by providing the tools needed to boost internal productivity and impress new and existing customers.
Additionally, an MSP will reduce (or remove) the need for a full in-house IT staff. This allows a company to stay focused on the areas of the business that drive in customers, such as marketing, branding, and core operations.
What Services do Managed IT Services Provide?
Depending on the type of tech support you need, your business can receive additional managed IT services, including (but not limited to):
Backup and Disaster Recovery Services
CTO and Strategic IT Consulting
 IT Security
 Mobile Device Management
Network Monitoring and Management
Remote Management
Vendor Management
24/7 IT Support
2. How Do I Know if My Business Needs Managed IT Services?
Here are a few scenarios that may indicate your business needs managed IT services.
Your Business Fails to Prioritize IT Security:
It's easy for small businesses to overlook the importance of IT security, especially when they have other responsibilities to focus on. However, the unfortunate truth is that all businesses are at risk, no matter their size.
Small to medium-sized businesses will find it extremely difficult to recover from an online attack or data breach. Moreover, about 60% of small businesses end up closing their doors permanently within the six months following an attack.
Data breaches can jeopardize the reputation of a small business- especially when it results in lost or stolen private consumer information. This can tarnish a company's standing with local customers and force them to backtrack their growth efforts to regain community trust.
If you have concerns about your small business's security, managed IT services can help. A quality MSP will take a multilayered approach to protect systems from cyber threats, data breaches, and viruses. Once an MSP has set up proper IT security, they will continue to run checkups and updates to keep up with ever-evolving threats.
Managed IT services may also specialize their security to meet geographical needs, which can be a good reason to hire locally. For example, Boca Raton IT services may have different approaches to security than another city – as they are designed to face the dangers of that specific area.
Lack of internal IT Support:
Many small businesses will set up mediocre in-house IT support. For instance, they might assign a few employees who are "good with computers" to handle any technical issues that arise, rather than hire experts in their staff. These team members may be equipped to handle printer jams and computer reboots – but not serious cyberattacks or server troubles.
It takes a dedicated team of expert IT technicians to handle serious threats, system failures, or respond to attacks. In the long run, hiring tech professionals through an MSP can reduce the number of IT problems and put less pressure on your employees.
Insufficient or Outdated Systems:
Your business is less likely to succeed if it's using outdated systems and technology. Managed IT services give small businesses access to tools that they would otherwise be unable to afford. These tools and technologies improve workflow, processes, and internal/external communication.
3. Managed IT Services Seem like a Big Investment – Is it Really Worth It?
Some business owners worry that an IT support company will cost them more money. However, working with an MSP usually equates to savings in the long run. A managed IT services provider will work with you to make sure that it matches your needs and goals, as well as your budget.
Benefits of a Managed Services Provider:
– 24/7 IT Support
Cyberattacks and disastrous system failures can occur at any time, causing your business to suffer from operational downtime. For this reason, you need constant access to IT experts – even on the weekends and holidays. With 24/7 support, any IT-related issue, big or small, will be addressed and resolved promptly.
Some issues are easier to fix in person than online or over the phone. That's why Boca Raton businesses should hire a local managed IT services company. Boca Raton IT services are more accessible than national or global MSPs. When disaster strikes, your local MSP will be in the same time zone and available to come into your office to resolve the issue.
– Backup and Disaster Recovery Services
Businesses must be prepared to prevent both digital and natural threats, which is why MSPs offer disaster recovery plans. These plans are meant to protect your data in the event of a natural disaster, such as a fire or flood.
This typically entails a team of IT experts creating cloud-based backup storage for your data. As a result, you can fully recover your data if your servers crash or are damaged beyond repair.
– Better Protection Through Network Monitoring
With a quality MSP, the entire technology infrastructure is monitored by a team of expert IT technicians. Any necessary maintenance, such as software patches, firewall updates, and virus protection is handled by the MSP.
This eliminates the need for business owners and their employees to worry about updating and monitoring their technology. Instead, they can focus solely on growing their business.
– Vendor Management
Managed IT services can set your business up with proper vendor management. Vendor management systems (VMSs) are cost-effective and help to manage all vendor relationships for the long term.
– No Additional Staff Needed
Partnering with an MSP can save you money by avoiding the cost of expanding your team. Instead of hiring in-house IT employees and paying them salaries and benefits, you get a team of experts for a flat monthly fee.
4. What Do I Look for in Managed IT Services in Boca Raton?
There are certain qualities that business owners should look for when searching for third-party Boca Raton IT services. These include:
Quick Response Times
Remote Monitoring as Needed
Scalability
Positive Customer Reviews and Testimonials
Clear Understanding of Specific Industry and Business Needs
An MSP should do more for you than simply follow orders and take a generalized approach to IT support. Instead, they should focus on building a relationship with you and your employees, so everyone feels comfortable reaching out for IT help.
Some IT support companies will temporarily resolve an IT issue, only for it to rise again. You want to find a managed IT provider that will solve the problem and take the necessary steps to prevent it from occurring again.
In Conclusion
There are many ways in which local small businesses can benefit from outsourcing with a Boca Raton IT services company. A managed IT provider can help save your business money and improve productivity.
Further, MSPs allow more time for businesses to focus on what matters – growing the business. Managed IT providers remove the stress and anxiety that small businesses face when trying to maintain and protect their technologies on their own. Instead, a team of IT experts will handle it while you focus on other needs.
Why are managed IT services important to your business? Let's find out together.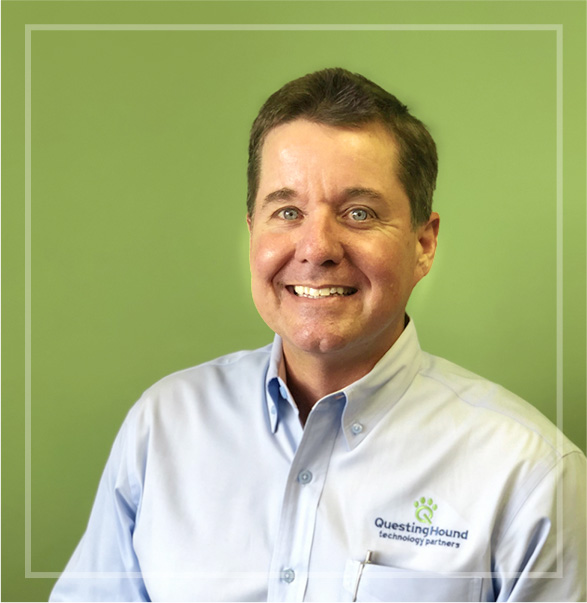 John Boden is a Managing Partner at QuestingHound, Inc., a Deerfield Beach IT support company that has been helping small businesses in South Florida stop focusing on IT and getting back to doing business the past 18 years. He promotes a culture that is dedicated to the highest standard of ethics, hard work, and outstanding customer service. Connect with John on LinkedIn.