How an MSP Can Support Your Internal IT Team
If your business already has an IT department in place, you may probably be wondering how a managed IT services provider can help you. The common perception among small and medium businesses is that joining hands with a managed services provider (MSP) essentially means handing over control of their internal IT department entirely to them.
This, however, is far from the truth. In fact, your IT personnel can work in tandem with an MSP and grow to complement each other.
An MSP can fortify your IT team by providing the necessary services and equipment that can plug holes in your existing IT infrastructure. Partnering with an MSP can also support your organization during periods of growth or change, thereby equipping you to better handle routine IT tasks.
The best thing about working with a managed IT company is that you can avail of different levels of service, be it full-service IT administration or a completely non-interventionist task. In short, when your IT team and MSP work together, your business benefits the most in terms of data management, secure operations, and peace of mind.
Here's a detailed look at how an MSP can support your internal IT team.
Automates Repetitive Tasks
Most small and medium businesses face budgetary constraints and hence, have no or small IT teams. Because less manpower is dedicated to IT functions, your IT team will likely have a plethora of issues to deal with on a daily basis. The last thing they need is to be overburdened with time-consuming, maintenance-related repetitive responsibilities.
This is where an MSP can come into the picture. An MSP can easily take over these responsibilities and automate such tasks, freeing up your IT staff to focus on more strategic and productive activities.
Provides an Established Infrastructure
It can be difficult and costly for businesses to host their own IT infrastructure. But this issue can be mitigated when your IT team works with an MSP.
To discuss your needs, you can seek valuable IT Consulting services from a local managed services provider. Boca Raton businesses, for example, can partner with an MSP of IT services in Boca Raton, FL for quick and hassle-free infrastructure-related solutions.
The benefit of doing so is that an MSP can host your systems on your behalf. You (or your IT team) can still control the systems, but the MSP can host and maintain them. This will enable you to focus on other more important areas of running your business.
Offers Round the Clock Support
Imagine a scenario where something goes wrong with your IT systems in the dead of the night, and your IT staff isn't around to take care of it. However, with an MSP as your ally, you can breathe easy and enjoy round-the-clock IT support.
The MSP will function as an off-site team and keep your IT department up and running even in the absence of your internal IT staff. This is especially helpful if your IT team is a small one. Your IT staff, in turn, can take time-off when they need to without worrying about leaving your business in a lurch.
If you're a small and growing business, you may not have the financial resources required to add another member to your IT team. But, having an MSP on your side can be an effective cost-cutting measure for you.
You may find that the cost of working with an MSP is moderate compared to hiring, training, and retaining a full-time employee.
When you recruit a new full-time employee in the IT team, you will have to pay them a competitive salary every month. You will also have to pay them other benefits, including paid leaves. When your IT team works with an MSP, you can scale your IT department as needed. This saves you considerable costs in the long term.
Brings Expertise and Specialized Skills
Your IT team may be well-informed about handling IT systems, but might not be capable of excelling in every specific area that falls under the category of IT services. MSP can come to your rescue in this aspect.
MSPs typically have experts with several years of experience in their team. These experts are well-versed in different areas and have specialized skills. They may be able to help you tackle matters that your in-house IT team could have trouble with.
For instance, large-scale installations and security settings require high-level expertise and skills. Your IT team may probably need support in facilitating these. An MSP already has a team of IT personnel with the right knowledge, skill sets and certifications for the tasks, and can help perform them in the most efficient manner.
A growing business's needs are different from one that's just starting out or is already established. Such a business typically experiences increased demands on their IT infrastructure, and needs a bigger team to handle the swelling pressure. Further, it also needs advanced technologies to keep up with the changing needs of efficiency and productivity.
This does not mean you have to hire new people. You can simply get an MSP to support your current IT team. An MSP can also help upgrade your existing technologies while giving you access to high-tech features you may not have. What's more? It can be scaled according to your unique business needs. You can scale up or scale down as and when required.
Allows You to Focus on Core Business Strategy
One of the biggest advantages of working with an MSP is that they can take care of the day-to-day IT management tasks that take up the majority of your in-house IT department's time.
Whether it is simply taking daily backups or something complex like working with structured cabling systems or even a weekly maintenance task, an MSP can tackle it all. This allows your IT team to dedicate their time and effort to more productive aspects of the business.
They can, therefore, focus better on large-scale deployments, optimizing your IT environment, or exploring new technologies to help you gain a competitive edge.
Becomes a Partner Instead of Replacement
You need not think of tying up with an MSP as replacing your IT department. In fact, you should consider it a partnership. Ideally, the MSP you work with should not make you feel like they're taking control, but reassure you that they are there to support you. In other words, you and your IT team should be able to trust the MSP and their IT consulting solutions.
Having the right agreement in place can help you place your trust in an MSP. Know that your MSP is there to supplement your IT and other staff. Together, you can meet your organization's cybersecurity and efficiency goals.
Conclusion
As your business grows, so does its technology needs. Small business owners may have a hard time deciding on whether to add more manpower to their internal IT team or to outsource some of their IT functions. One misconception in this regard is that it has to be either one of these choices. In truth, however, businesses can hire an MSP despite having an in-house IT team.
As an experienced MSP, QuestingHound understands your concerns. Feel free to get in touch with us to get your queries answered. You can also call us on 954-727-2200 to schedule an introductory phone call. Connect today!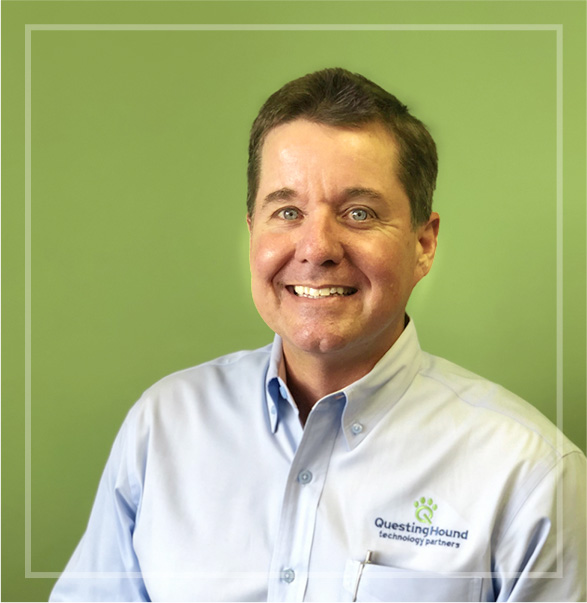 John Boden is a Managing Partner at QuestingHound, Inc., a Deerfield Beach IT support company that has been helping small businesses in South Florida stop focusing on IT and getting back to doing business the past 18 years. He promotes a culture that is dedicated to the highest standard of ethics, hard work, and outstanding customer service. Connect with John on LinkedIn.