What is Outsourced IT Support and Why Does Your Fort Lauderdale Business Need
Fort Lauderdale is one of the best cities to start your business. As one of the fastest-growing markets for global trade, more than 40% of local businesses in Fort Lauderdale are engaged in or supporting international commerce. It is also at the forefront of South Florida's emerging "Internet Coast," a region home to more than 6,000 high-technology firms.
The widescale development and flourishing business climate have also led to intense competition. SMBs need to invest in the right technology to thrive in this competitive environment. Unfortunately, not every business can maintain a full-service in-house IT team.
That's why outsourced IT support is an attractive option for many Fort Lauderdale businesses. Let's see in detail what this option means and why your business may benefit from it.
Understanding IT Support  
IT support often includes setting up and maintaining the entire computer network and technology infrastructure of any company or business. You get complete hardware and software maintenance, repair, and set up solutions. These IT services are usually available round-the-clock, ensuring maximum uptime for your IT support company.
The outsourced IT support services include (but are not limited to):
Data Backup and Disaster Recovery
CTO and Strategic IT Consulting
IT Security
Mobile Device Management
Network Monitoring
Remote Monitoring and Management
Vendor Management
24/7/365 IT Help Desk Support
Many managed IT providers also offer consulting, project management, and hardware and software procurement. The services will be customized depending on your business needs, budget, and the managed service provider (MSP).
Why Does Your Business Need Outsourced IT support in Fort Lauderdale?
The demand for managed IT services is on the rise as the global economy is becoming increasingly digitalized. In 2020, valued at $152.05 billion, the global managed services market is forecast to reach $274.20 billion by 2026, registering a CAGR of 11.2%.
The question is why so many businesses are turning to outsourced IT support providers.
Here's why:
1. Increased Cybersecurity Is the Need of the Hour
You are probably thinking we are already using antivirus software, so we don't need to worry about cyberattacks.
That's where you are wrong!
Ordinary antivirus software, which most home computers have, is not good enough to defend your business network against sophisticated cyberattacks – like ransomware.
Ransomware attacks are increasingly targeting small businesses across nearly all industries. According to a recent survey:
46% of all small businesses were the targets of ransomware attacks.
Out of those targeted, almost three-quarters (73%) paid a ransom.
$43% of small enterprises paid between $10,000 and $50,000 as ransom, while 13% paid more than $100,000.
17% of those businesses that paid the ransom only recovered some of their data.
Given how much damage a ransomware attack can cause, you need a multilayered cybersecurity system to defend your business. A managed IT support company can:
Analyze your network and identify security gaps.
Fix security gaps and system vulnerabilities.
Provide 24/7 network monitoring.
Mitigate potential threats before they cause damage.
2. Predictable IT Spending
Tech emergencies can occur anytime, especially when there is no proactive maintenance. It could be a desktop breaking down or a data breach. When the IT emergency hits, you have to spend money on costly repairs. Plus, the resulting downtime results in considerable financial losses and affects employee productivity.
Without proper outsourced IT support, your overall IT budget becomes quite unpredictable. Most SMBs can't afford to spend so much on their tech infrastructure alone. You have to cut down the costs wherever possible.
When you choose outsourced IT support in Fort Lauderdale, you don't have to worry about unpredictable tech expenses. Most MSPs offer their services for a flat monthly or annual fee. These services often cover proactive maintenance and network monitoring, which reduces the chances of IT emergencies. As a result, your IT budget becomes much more predictable and manageable.
3. Reliable 24/7 Outsourced IT support 
Unless you are a tech expert, you might not know what to do during an emergency. You might also struggle to find a capable IT provider at the eleventh hour. You would probably call the nearest IT team, which can result in extended downtimes.
However, if you have dedicated IT support, they will offer a durable solution as they know your tech infrastructure inside out. In fact, most managed IT providers offer the following benefits.
 They provide a 24/7 help desk to offer remote assistance, which can resolve most routine tech issues.
They provide on-site assistance if required. The MSP will send engineers to your office if the situation calls for it.
They know your network and your business culture well enough to provide accurate and long-lasting solutions.
Being experienced, they offer reliable decision-making during an emergency when emotions are already running high.
Most importantly, they will be monitoring your systems 24/7 to prevent emergencies from happening in the first place.
4. Disaster Preparedness through Data Backup and Recovery
Despite taking the necessary precautions, your business may still lose data due to a natural disaster, an accident, or a cyberattack. The only way to prevent data loss in such situations is to back it up regularly to multiple cloud-based locations.
A seasoned IT support provider will implement a disaster recovery plan (DRP) for your business. This involves both data backup and recovery processes, and strategies to mitigate the losses during an emergency. This document provides a structured approach towards responding to unplanned events such as data breaches or natural disasters.
DRP prevents revenue losses, brand damage, and dissatisfied customers as it provides rapid recovery from disasters. However, it is not possible to create a comprehensive DR plan without a technical background and experience. Having an expert IT team to take care of your data backup and recovery ensures better preparedness.
5. Surefire Regulatory Compliance
As a business owner, you have to take the necessary steps to protect sensitive information. Failure to do so can result in hefty fines, expensive lawsuits, not to mention a stained brand image.
In 2020, Premera Blue Cross, a Washington-based health insurance company, was fined $6.85 million for HIPAA violations. First detected in January 2015, the data breach exposed the data of 10.4 million people. The breach occurred due to the lack of enterprise-wide risk analysis and failure to implement risk management and audit controls.
Unfortunately, in the ever-evolving world of cyber regulations and increasingly complex technologies, adhering to current PCI security standards can be challenging. Your managed IT provider will make sure you are always meeting regulatory compliance standards. They know the latest governing standards and the steps you need to take to comply with them.
6. Increased Competitive Advantage
When you outsource your IT support, you will have more time to focus on growing the business – and not lose time to operational bottlenecks.
An MSP will manage the following tasks:
Onboard and train new IT employees.
Train your employees to use new software or applications.
Check for regulatory compliance or industry standards.
Take care of unplanned downtime, system maintenance, and reduced productivity.
Manage cybersecurity, data breaches, natural disasters, or ransomware attacks.
With the extra time, you can invest it in the research, development, and implementation of new business processes. That's how outsourcing your tech support allows you to stay ahead of the curve.
6 Qualities of an Excellent Outsourced IT Support Provider
Your Florida business can experience the benefits discussed above if you partner with reliable and skilled outsourced IT support in Fort Lauderdale. As there is no shortage of IT agencies in the area, you need to be careful when choosing a partner.
Looking for the following qualities in an MSP can help speed up your search.
1. Tech Savviness
As the MSP is responsible for taking care of your technology infrastructure, they need to be tech-savvy (obviously). Partnering with such a service provider offers three distinct benefits.
Being tech-savvy, they are aware of the latest tech developments in your niche. As a result, they will make sure you procure the latest apps and hardware when needed.
They are up-to-date with the latest tech regulations and cybersecurity issues. This knowledge can help you build a safer computer network.
Being passionate about technology, they will take care of your network as their own. This kind of commitment is difficult to come by.
2. Proactive Mindset 
A good IT support provider engages in proactive IT, not reactive IT. They will do everything they can to prevent any issues from bringing your network down.
They will:
Analyze and audit your entire network to identify and address security gaps.
Find ways to improve your operational efficiency and productivity.
Ensure 24/7 network monitoring to mitigate any threats or glitches before they cause catastrophic damage.
As the proactive mindset prevents IT issues from escalating, you can enjoy higher uptime and lower financial losses. Make sure to hire an MSP that proactively communicates with clients and demonstrates their commitment through action.
3. Industry Experience
Although technical expertise is a primary consideration, that alone isn't enough. Industry experience is equally critical as you need tech solutions tailored to your business needs. Hiring an MSP who knows the ins and outs of your industry will be able to hit the ground running for your IT network.
While there are industry-specific service providers, you may come across a few that cater to several industries. Make sure to look at their current clients to see if they have worked in an IT setting similar to yours. Try to learn about their processes as well. It will help you understand their technical capabilities, allowing you to make a more informed decision.
4. Transparency
Complete transparency is a core characteristic of a professional MSP. Openness and accountability play a critical role in tasks like sensitive data management and security. The MSP should be transparent about everything from their work culture and business process to their pricing and deliverables. Most importantly, this transparency needs to reflect in your service level agreement (SLA), which essentially defines your partnership.
5. Scalability 
No two businesses are alike. For instance, some companies may experience seasonal fluctuations, while others may be expanding rapidly. The managed service provider should be able to keep up with your changing business needs. They should help you upgrade and expand (or scale down) your hardware and software as the situation demands. More importantly, they should be able to do it without drilling a hole in your IT budget.
6. Availability
The last (but the most critical) factor is availability. A competent MSP will provide 24/7/365 IT support for all your technology needs. However, you must get these details in writing, i.e., in your SLA.
Additionally, a good MSP will love to talk about their quick replies to client inquiries – be sure to ask them about their average response times. Ideally, the average response time will be an hour or less.
Over to You
Having your own staff look after all your technology needs can be costly and challenging. Hiring an MSP helps increase your business efficiency, productivity, and cybersecurity without breaking the bank. But, you have to be careful when outsourcing your IT services. Hopefully, this guide will kickstart your research for finding a reliable managed IT provider.
How do you think outsourced IT support could benefit your business? And what role can QuestingHound Technology Partners play in this? Let's find out together.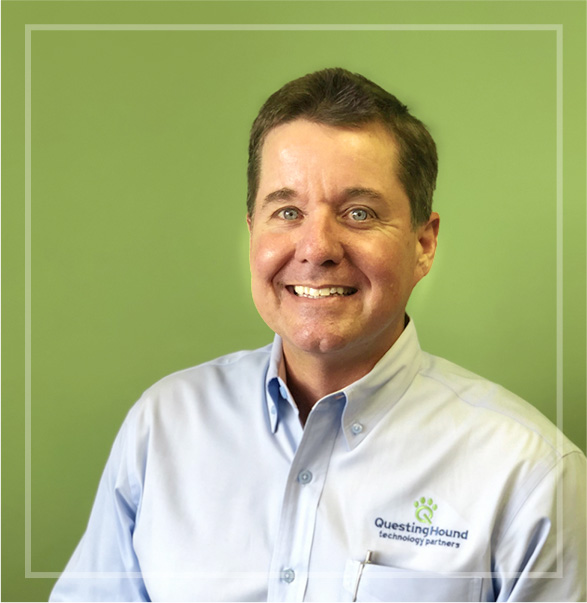 John Boden is a Managing Partner at QuestingHound, Inc., a Deerfield Beach IT support company that has been helping small businesses in South Florida stop focusing on IT and getting back to doing business the past 18 years. He promotes a culture that is dedicated to the highest standard of ethics, hard work, and outstanding customer service. Connect with John on LinkedIn.