Do you feel like your current IT provider just isn't acting with your best interests in mind?
Maybe they're more reactive than you need them to be. Maybe it feels like they're pushing products and services just for the sake of it. Maybe it just takes far too long to get them on the phone when you have an important problem that needs to be solved.
You know what good IT support should be like – and it should be like that all the time. Stop sticking with an
IT company
who really isn't invested in your business, just because you think "it's too hard to switch." Poor communication and even worse support is not the way that IT is supposed to be.
From the moment we originally opened our doors until now, we've gone out of our way to do things differently than a lot of our competitors. We want to build actual relationships with you and your employees. When we make a promise, we live up to it - we really do monitor your servers 24/7/365. When we make a mistake, we own up to it - because you shouldn't have to deal with us constantly passing the buck.
But more than anything, we believe that we're all in this together - which is exactly the way it should be.
We've Helped Countless Businesses over the Years
When one of the country's largest auto dealers was starting to feel like they were spending more time dealing with printing issues than they were on helping their customers, they knew they had a problem that was only going to get worse over time. Headquartered here in Florida, this company prints out a 6-8 page analysis of the car's systems, with full recommendations, every time a customer drives into the service department. Managing printing tasks like these had become a full-time job in and of itself, and something had to be done about it. Printers were leaking, toner was running out. They were forced to keep their printing supplies, literally, "under lock and key." But when QuestingHound implemented a fully managed print solution, things changed overnight:
"QuestingHound's managed print solution saved us money immediately. But more importantly, it also saved us time and stress because we knew that our IT support company was always making sure that our printers were going to be working. As an added bonus, we were able to consolidate 350 invoices down into one because we no longer had to order supplies on our own. QuestingHound didn't just solve our printing issue - they also made our accounts payable department dramatically more efficient as well. QuestingHound takes a unique approach to each problem we face, and we couldn't be happier to have them by our side."
Cindy Lawrence,
DSE Program Specialist, Corporate Customer Care Team
Read more customer stories to find out how QuestingHound has helped.
The QuestingHound Promise to Our Customers
At QuestingHound, we're proud of the fact that we make the same core promise to each and every customer who walks through our door: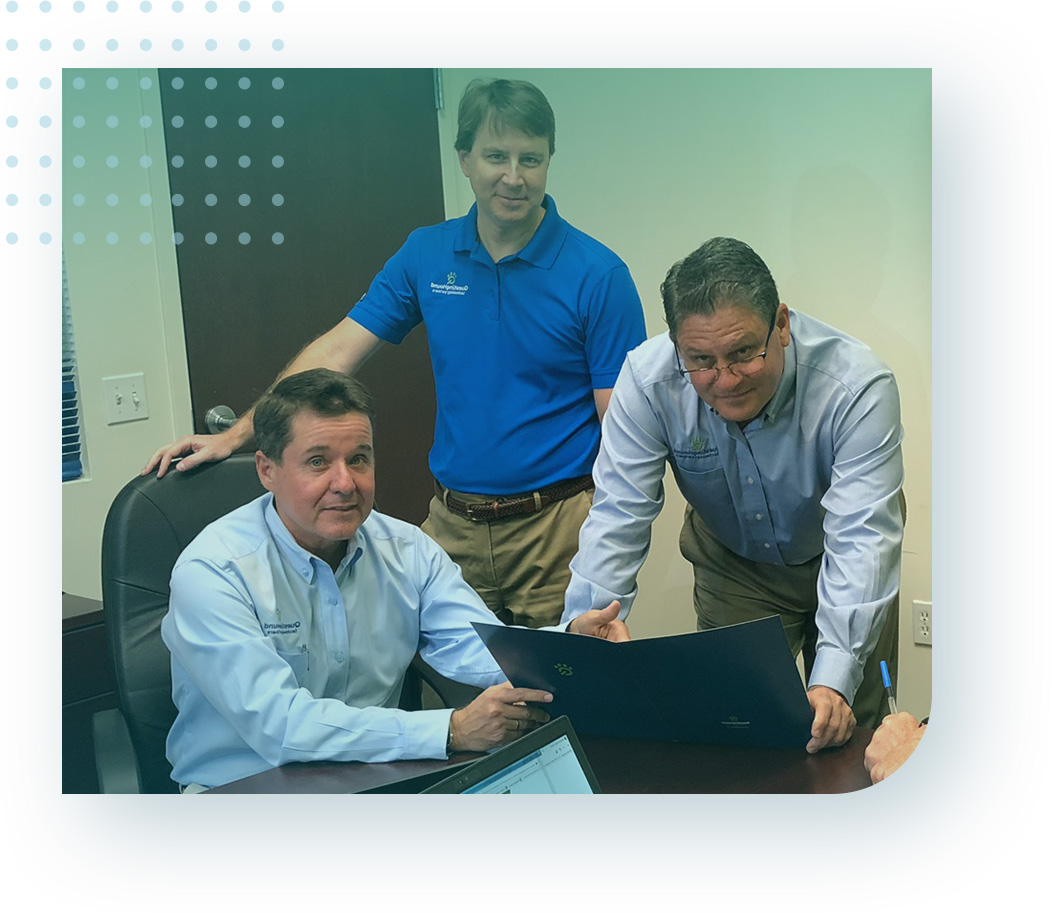 We promise to treat your people with the utmost respect.

Our team of dedicated expert consultants and technicians are here to serve as independent advisors, analyzing your business and recommending solutions based on YOUR needs, not OURS.

We promise to give you the flexibility you need.

We're vendor-neutral, which means that we never recommend products that aren't the perfect fit for what you're trying to do. Instead, you always have the flexibility to select the product from the vendor that fits YOUR specifications.

We promise to adhere to the approach you deserve.

We follow the same holistic process for every client we take on, so you can be sure that we'll never cut a corner, and you'll never have to worry about whether or not we're acting with your success in mind.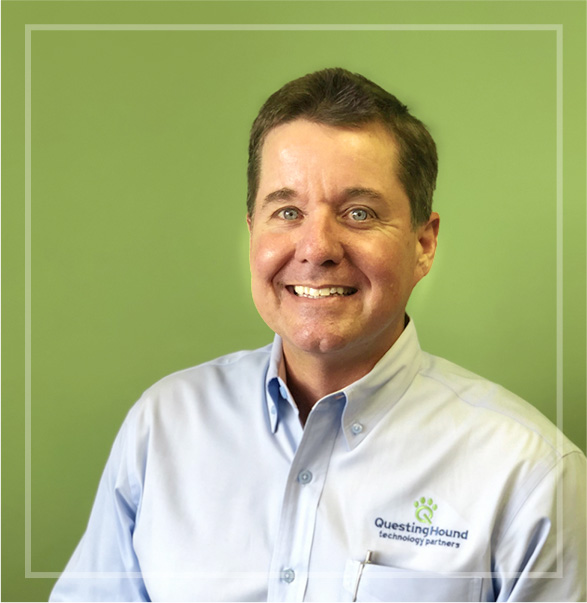 John Boden
Managing Partner
Doug Garcia
Senior Partner
Kevin Morse
Senior Partner
Rich Kent
Director of Inside Sales
Ray Medina
Service Delivery Manager
Where did the name come from?
QuestingHound was the name of a 37-foot sailboat on which company founder John Boden and his family spent a year in the Bahamas during John's youth.
The name is derived from the John Masefield poem "The Wanderer of Liverpool." John Masefield was known as the "Poet of the Sea" because the majority of his works focused on his experiences at sea. In the Wanderer of Liverpool, Masefield used the term "QuestingHound" to describe a Clipper Ship going off to sea bound for its next port. The poem captures the true nature of our company and our vision for the future.
Just like the ship in the poem, we too are on an endless quest. Our quest is to constantly provide our customers with innovative, affordable technology solutions that help their businesses thrive.
Better Support is Just a Phone Call Away
Simply put, if you can't trust your IT provider, how are you supposed to trust the recommendations they're giving you? We've seen far too many people fall into this trap over the years and we want to help make sure that you don't find yourself among them.
If you're looking for a bold new approach to IT by way of the relationship with your support provider you can depend on – that's exactly what we want too. Give us a call today or click the "Let's Talk" button below so that we can get in touch with you and get this ball rolling.